Testimonials
"A wonderful experience with you guys and we will surely look forward for more trips."
Ajay Prinja,
L'Oreal India
"My wife and I would like to thank you for the professional services you and your team gave us during our visit to India last month. Your personal care for details made our trip enjoyable, safe and a great travel experience in your beautiful country. Please send our thanks to your representative, tour guide and drivers as well."
Haim Horey,
Mosav Netaim Israel
News & Events
Coming soon
Royal India Train Journeys
Palace on Wheels
---
Palace on Wheels – The Train
It stands on its tracks a gleaming sealed carriage, every bit is royal. The air-conditioning works silently, creating a space where only the excitement of the history of the Rajput kingdoms permeates through, clearly captured in a contemporary mode. In all, there are fourteen saloons, each equipped with two twin-bedded and two double-bedded chambers, with attached baths that have running hot and cold water and showers. The modern conveniences have been thoughtfully provided, sofas to sink into, strategically placed lights to read by, wonderfully appointed beds with comfortable furnishings, inbuilt wardrobes for the storage of one's clothes and bags, and huge plate glass windows to watch the countryside roll past.
Outside the bedrooms, each coach also has a seating lounge where passengers can get together, just sit watch the cities as they glide past outside the windows, or enjoy a quiet cup of tea. An attached pantry with each saloon helps provide beverages and refreshments to the accompaniment of soothing piped music.
There is the comfortable bar cum lounge where you can relax over your favourite drink, burrow in a book or converse with fellow passengers. Attached to it are two restaurant cars, Maharaja and Maharani respectively, with opulently draped curtains, exquisitely crafted lights and table settings . Here accompanying chefs serve up a delicious choice of Indian, including Rajasthani, Continental and even Chinese cuisine that are a feast for the palate.
The train chugs out of Safdarjung Railway Station New Delhi cantonment on a week-long run through Rajasthan every Wednesday night, with a trip also inbuilt to Agra and the Taj Mahal. Turban-wearing attendants take over from the moment you arrive at the platform, assigning you your coupes and detailing all the facilities that are on board. The train moves by night and arrives each morning at a new destination where new experiences await you.
---
Itinerary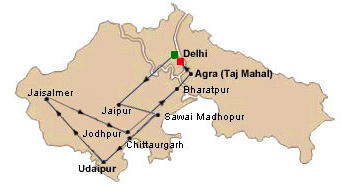 The Palace on Wheels is one of the world's most exciting rail journeys, with ample facilities on board and royal destinations as its stops every day. With everything taken care of: dining, accommodation, sightseeing as well as organized shopping; all the holidaymaker has to do is sleep in the history of the land, soak in its colours and experience the royal life of the Maharaja.
The tour starts from Delhi and come back to the city via the tour given below:
Schedule: The Palace on Wheels tour starts on every "Wednesday" of the week from New Delhi.
Months of Operation: September to April of the following year.
Jaipur – Sawai Madhopur – Chittorgarh – Udaipur – Jaisalmer – Jodhpur – Bharatpur – Agra – Delhi
Welcome aboard! To head to the best city in the world: "Udaipur" (for travel and leisure) and the Taj Mahal: a wonder of the world.
---
Facilities
You'll be delighted that you chose to see Rajasthan by the Palace on Wheels. On board, you'll feel like an erstwhile monarch, traveling in regal splendor.
Coaches
The 14 coaches are named after former Rajput states, each coach matching the aesthetics and interiors of the royal past of that princely state. Each coach has four twin bedded chambers and a saloon. The saloon has a mini pantry and lounge, with personal attendants (Khidmatgars) to extend courteous assistance.
Rooms
Palace on wheels offers twin bedded chambers, thoughtfully decorated in ethnic Rajasthani decor and each having channel music, intercom, attached toilets, running hot & cold water, shower and wall to wall carpeting.
Restaurant and Bar
The train has two lavish restaurants "The Maharaja" and "The Maharani" with a Rajasthani ambience serving gourmet Continental, Chinese, Indian and Rajasthani cuisines, prepared by chefs in the attached pantry. There is also a well-stocked bar offering choice sprits of Indian and international brands.