Testimonials
"A wonderful experience with you guys and we will surely look forward for more trips."
Ajay Prinja,
L'Oreal India
"My wife and I would like to thank you for the professional services you and your team gave us during our visit to India last month. Your personal care for details made our trip enjoyable, safe and a great travel experience in your beautiful country. Please send our thanks to your representative, tour guide and drivers as well."
Haim Horey,
Mosav Netaim Israel
News & Events
Coming soon
Royal India Train Journeys
The Golden Chariot
---
The Palace on Wheels of South India- Golden Chariot Train
Named after the famous Stone Chariot in Hampi, a World Heritage Site in South India, The Golden Chariot conveys you in luxurious comfort on voyages through time and exotic South Indian locales. On these journeys, it unravels for you both eras hidden behind time's veil, and the splendours of the present day. Come aboard, on a journey filled with moments worth cherishing for a lifetime.
---
Itinerary
The Palace on Wheels of South India - Golden Chariot Train tour has been rated by Vanity Fair, U.K. amongst the top seven train journeys in the world. It is a luxury train appointed with the finest facilities that takes you on a journey truly unique and memorable.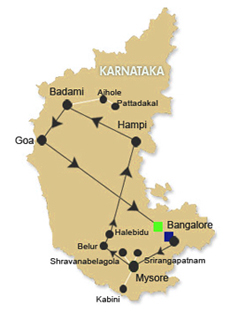 Since Oct 2010, the train is operating on two different tour circuits of South India.
7 Nights Pride Of South-Golden Chariot Train Tour
Schedule: The Golden Chariot Train Tour starts on every Monday of the week from Bangalore and ends in Bangalore on every Monday morning respectively.
Months of Operation: September to March and April to August.
The Golden Chariot transports you to the worlds of mythology, heritage, worship, natural wonders, wildlife, adventure, beaches and more. Spanning 7 nights and 8 days, the 'Pride of the South' itinerary begins with Bangalore and encompasses tiger-stalked Kabini, avian paradise Srirangapatna, majestic Mysore, colossal and monolithic Shravanabelagola, transcendent architectural marvels Belur and Halebid, imperial Hampi, sublime Badami and Pattadakal, and finally, the glorious beaches of Goa!
Bangalore – Kabini – Mysore – Hassan – Hampi – Badami – Goa – Bangalore Return
---
7 Nights Southern Splendour-Golden Chariot Train tour
Schedule: Southern Splendour Tour starts on every Monday of the week from Bangalore and ends in Kochi on every Sunday morning respectively.
Months of Operation: September to March and April to August.
This is a truly breathtaking experience spread over 7 nights and 8 days, linking some of South India's most unique and exciting destinations. It covers three states and brims over with awe-inspiring moments.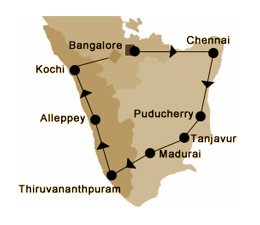 On its Southern Splendour run, The Golden Chariot starts out from Bangalore, the Garden City, taking you first to Chennai, a modern city exceptional for its allegiance to ancient traditions. Moving on, you find yourself at Puducherry, where serenity is redefined. In the ancient temple towns of Thanjavur and Madurai, you will encounter marvels of architecture and heritage. And thence to Kerala, God's Own Country, and the ineffable scenic beauty of Thiruvananthapuram, Alappuzha and coastal Kochi. Finally, it's back to home base Bangalore.
Bangalore – Chennai & Mahamallipuram – Pondicherry – Tanjavur – Madurai – Trivandrum & Kovalam Beach – Kerala Backwaters & Kochi – Bangalore Return
---
Facilities
Cabins
Recreating the architectural aesthetics of erstwhile south Indian dynasties are the 44 guest cabins categorized as 26 twin bed cabins, 17 double bed cabins and 1 cabins for the physically challenged. The carvings on the ceilings, wall panels and furniture are inspired from the Hoysala and Mysore architectural movement. State of the art amenities such as WI-FI internet, LCD television with satellite channels, writing desk, wardrobe and central air conditioning.
Dining
Golden Chariot features two multi-cuisine restaurants- Nala and Ruchi- serves a delectable buffet spread of vegetarian and non-vegetarian cuisines on the platter of the guests. The restaurants interiors are reminiscent of Halebid and Hampi architectural style.
Bar and Lounge
The on-site lounge bar, Madira, is the place to unwind after a day of sightseeing excursions. Stocked with the fine assortment of international wines and spirits, Madira is a sheer delight for wine connoisseurs.
Conference Car
Offering a seating capacity for upto 30 guests, the conference car on board the Golden Chariot will let you execute your meetings in a royal manner. The car is housed with state of the art technology such as a 42-inch LCD television, Wi-Fi internet and audio-visual equipment.
Health and Recreation
The 'Nirvana Spa' housed on board Golden Chariot offers holistic wellness through an array of Ayurvedic and spa therapies. The recreational coach also comprises a fully equipped gymnasium.