Testimonials
"A wonderful experience with you guys and we will surely look forward for more trips."
Ajay Prinja,
L'Oreal India
"My wife and I would like to thank you for the professional services you and your team gave us during our visit to India last month. Your personal care for details made our trip enjoyable, safe and a great travel experience in your beautiful country. Please send our thanks to your representative, tour guide and drivers as well."
Haim Horey,
Mosav Netaim Israel
News & Events
Coming soon
Royal India Train Journeys
Jungle Safari
13 Nights / 14 Days
DELHI – JAIPUR – RANTHAMBORE – BHARATPUR – FATEHPUR SIKRI – AGRA – ORCCHA –
KHAJURAHO – BANDHAVGARH PARK – KANHA NATIONAL PARK – NAGPUR – MUMBAI
---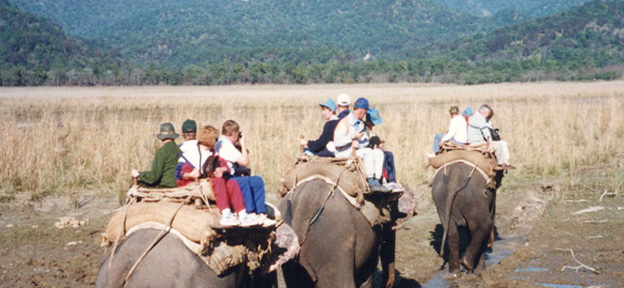 ---
Day 01 : Delhi
Arrival at Delhi. Welcome at the airport and transfer to hotel. Later start your exploration of India with a city tour of Old Delhi that includes visit to Jama Masjid, built in 1650 A.D. and amazing Red Fort which was the seat of Mughal Empire for more than 250 years. Also enjoy rickshaw ride along the alleys of the ancient bazaar of ChandniChowk. Then drive past India Gate, Parliament Buildings and President House. Return to hotel for overnight stay.
Day 02 : Delhi – Jaipur (260 Km, 5 Hours)
Morning leave for Jaipur.Upon arrival check in at hotel. Jaipur city was founded by Maharaja Jai Singh in 1727. It is a magnificent planned city built of rose-pink coloured stones that is why it is also known as "Pink City". Rest of the day is at leisure to explore local bazaar. Overnight stay.
Day 03 : Jaipur
Morning excursion to Amer Fort. Ascend by painted elephant up to fort with its huge gateways and pillared pavilions. It has a marble Palace, Temple of Victory and Sheesh Mahal (Hall of Mirrors). Afternoon city tour of Jaipur.Visit City Palace and Museum. Nearby is the ornate HawaMahal (Palace of winds) which is five stories high and is decorated with delicate screens carved from stone. Also visit JantarMantar, an observatory which is still equipped with immense brick and mortar instruments. Overnight stay.
Day 04 : Jaipur – Ranthambore National Park (170 Km, 4 Hours)
Morning leave for Rantharnbore.On arrival check in at the hotel. The Fort of Ranthambore has been abandoned to nature in the national park, where the Royal Bengal Tiger rules the jungle. One of the country's finest tiger reserves, its topography of low hills and large lakes provides a tranquil idyll. Overnight stay.
Day 05 : Ranthambore National Park
Covering an area of 410 sq. km., Ranthambore used to be the private hunting ground of the Royal family of Jaipur. In 1972, it was declared a Sanctuary and brought under Project Tiger Conservation platform. Dry deciduous forest covers open valleys with lush vegetation around the lakes in this park. This varied flora supports a large number of animals including a variety of deer, the sloth beer, the shy caracal, leopards and of course, the tiger. Enjoy wild life safaris into the park in the morning and evening. Overnight stay.
Day 06 : Ranthambore National Park – Bharatpur (255 Km, 6 Hours)
Morning leave for Bharatpur.On arrival check in at hotel. Afternoon visit Keoladeo Ghana National park, a rich aquatic plant and animal life in the shallow, freshwater marsh of Bharatpur has been attracting resident and migratory aquatic birds in thousands, since times immemorial. It has a recorded history of 100 years of duck shoots. There are 374 species belonging to 56 families, within the 29 sq km. area of the National Park. Overnight stay at hotel.
Day 07 : Bharatpur – Fatehpur Sikri – Agra (65 Km, 1 V2 Hours)
Early morning leave for Agra. Stop en route and visit FatehpurSikri, undoubtedly the best preserved Mughal Palace city of all. Built by Great Akbar around 1 570, he used the highest quality craftsman to construct the city only to abandon it some fourteen years later when it is said that the water system failed. Proceed to Agra which was once the capital of Mughal India and centre of great power and glory. Visit world famous "TajMahal", the monument of love immortalized in marble. It was built by Emperor Shah Jahan in the memory of his Queen Mumtaj. Also visit Agra Fort and Sikandara. Overnight stay at hotel.
Day 08 : Agra – Orccha – Khajuraho (2½ Hours + 180 Km, 4 Hours)
Morning transfer to railway station to catch train for Jhansi. Upon arrival short drive to Orccha, a rich legacy of Bundela rulers, who built the beautiful temple and palaces here in 16th century. Visit Rai Praveen Maha! and Raja Temple. Then proceed to Khajuraho. After arrival check in at hotel.Overnight stay.
Day 09 : Khajuraho – Bandhavgarh Park (240 Km, 6 Hours)
Morning visit temples which are famous for erotic sculpture and known for their architecture and bold artistic statement. Then drive to Bandhavgarh which is situated in Shahdol district among the outlying hills of the Vindhya range. The density of the Tiger population at Bandhavgarh is the highest known in India. Upon arrival check in at resort.Overnight stay.
Day 10 : Bandhavgarh National Park
Early in the morning set out for the adventurous trial on the Jeep Safari to spot the tigers in the national park. You can witness more than 22 species of mammals and 250 species of birds. Common Langurs and Rhesus Macaque represent the primate group. Carnivores include the Asiatic Jackal, Bengal Fox, Sloth Bear, Ratel, Gray Mongoose, Striped Hyena, Jungle Cat, Leopard and Tiger. The artiodactyls frequently sighted are Wild Pigs, Spotted Deer, Sambar, Chausingha, Nilgai, Chinkara and Gaur. Mammals such as Dhole, the small Indian Civet, Palm Squirrel and Lesser Bandicoot Rat are seen occasionally. Take second ride in the afternoon. Overnight stay at resort.
Day 11 : Bandhavgarh – Kanha National Park (245 Km, 6 Hours)
Morning drive to Kanha National park.On arrival check in at the resort.Kanha is divided into two sanctuaries, Hallon and Banjar, of 250 and 300 sq km each. Though one of these was subsequently disbanded, the area remained protected until 1947. Depletion of the tiger population in the years that followed led to the area being made an absolute sanctuary in 1952. Overnight stay.
Day 12 : Kanha National Park
Morning and afternoon jeep safari in the forest. You can see the Cattle Egret, Pond Heron, Black Ibis, Common Peafowl, Crested Serpent, Racket-Tailed Drongo, Hawk Eagle, Woodpecker, Pigeon, Dove, Parakeet, Babbler and Mynah, Indian Roller, White-Breasted Kingfisher and Gray Hornbill apart from the Tiger. Overnight stay.
Day 13 : Kanha National Park – Nagpur – Mumbai (255 Km, 6 Hours + 1¼ Hours)
Morning leave for Nagpur to catch flight for Mumbai.Upon arrival transfer to hotel. Rest of the day is at leisure. Overnight stay.
Day 14 : Mumbai & Departure
Morning check out from hotel and start city tour of Mumbai visiting Gateway of India, Hanging Gardens and Prince of Wales Museum. Evening transfer to airport to catch flight for onward destination.