Testimonials
"A wonderful experience with you guys and we will surely look forward for more trips."
Ajay Prinja,
L'Oreal India
"My wife and I would like to thank you for the professional services you and your team gave us during our visit to India last month. Your personal care for details made our trip enjoyable, safe and a great travel experience in your beautiful country. Please send our thanks to your representative, tour guide and drivers as well."
Haim Horey,
Mosav Netaim Israel
News & Events
Coming soon
Royal India Train Journeys
Why India as the Destination?
India is going the global way and MICE is fast becoming a major part of its travel and promotional budgets. In the Indian context, incentives is at present the largest component of MICE but in a maturing market, it's only a matter of time before the entire gamut of MICE activities are undertaken by the Indian corporate world.
The expansion in the network of airlines operating on the domestic routes, better tourist surface transport systems including the Indian Railways, new centers of information technology, many new convention centres, hotels and meeting facilities make India an important MICE destination.
The Indian sub-continent is emerging as one of the finest incentive destinations in the world owing to the diverse culture and geography. From the icy Himalayas to the tropical islands and from citadels in the desert to verdant jungles, it is a world in itself.
The incentive programs are a combination of old world charm and tradition interlaced with modern cosmopolitan sophistication.
Today, there are distinct travel divisions within tour companies and airlines that exclusively target MICE movement. Destinations have also begun to market MICE products to specialised agencies and the corporate world at large.
India is globally connected to a network of over 50 international airlines and several domestic airlines, which provide convenient connectivity within India. Added to this is an elaborate network of surface transportation. There is an excellent railway system running through the entire country. All important cities are connected with state-of-the-art "Shatabdi and Rajdhani" express trains. Special trains like Palace on Wheels and Royal Orient Express, comprising of air-conditioned saloons decorated in the old Maharaja style offer guests a chance to stay on the train and visit colourful Rajasthan and fascinating Gujarat.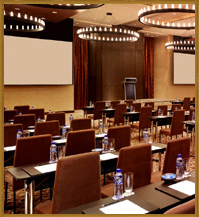 And above all, India offers an educated manpower base where fluency in English and other official international languages can be expected. A large number of convention centres are available in India with a seating capacity of up to 1700 persons. The important conference centres in the country are at New Delhi, Mumbai, Agra, Bangalore, Chennai, Cochin, Goa, Hyderabad, Jaipur and Kolkata. Some important hotel chains like the Taj Group, ITC-Welcomgroup, the Oberoi's, Meridien Hotels, Marriott Hotels etc. also have excellent conference facilities.
The exhibition industry has also gained fresh impetus with exhibition centres like Pragati Maidan in New Delhi, the Nehru Centre in Mumbai and the Chennai Trade Centre in Chennai being amongst several other options.
Facilities available at all the recommended venues:
Convention centres, conference andbanquet halls
Exhibition centres
Auditoriums andstadiums for hosting opening/closing ceremonies and other events
Accommodation in good 5-star and 4-star hotels
Restaurants andbars
Recreation activities like golf, Yoga and Ayurveda centres, discotheques, sports like tennis, squash, badminton, health clubs with spa facilities
Easy accessibility in terms of domestic and international flights
---
MICE: Why India Now Journeys as the Service Provider?
Dedicated Team:
We are dedicated team who understand the business implications of a conference or an incentive tour for our customers. We will assist you in the right destination selection, venue and menu options, and a detailed cost/benefit analysis. We have wide experience in this field.
One Stop Shop:
India Now Journeys books air, train and bus tickets online, along with hotels reservation. We also provide visa services, travel insurance, and car rentals.We function effectively as your complete end-to-end travel resource, dealing with every part of the tour independently, with resolve and expertise. This, along with the expert planning and logistics of our dedicated MICE experts, leaves you no reason tolook any further.
Personalized Planning and Expert Execution:
We will assist youin planningin every way, with practical tips. Our experience and knowledge of both the destinations and the itinerary building process will allow you to add the Wow! factor while eliminating the risks. We will not rest until we match and then surpass your expectations.
Flexible and Experienced:
With our expert and enthusiastic team, we can handle a variety of requirements, and have experience handling groups that range from 20 persons to more than 100. Our tour directors have serviced more than 100 groups, apart from being very well-versed with their destinations. We never leave anything to chance.
Pre-&-Post Conference Tours and Services:
Working to promote connections before, after, and during the event, we offer a variety of pre-&-post conference services, venue inspection and selection (including client visits), creation of a dedicated website for the concluded event, detailed correspondence, report generation, and more. Apart from these services, you can enjoy any of India Now Journeys' special tours before or after your conference.